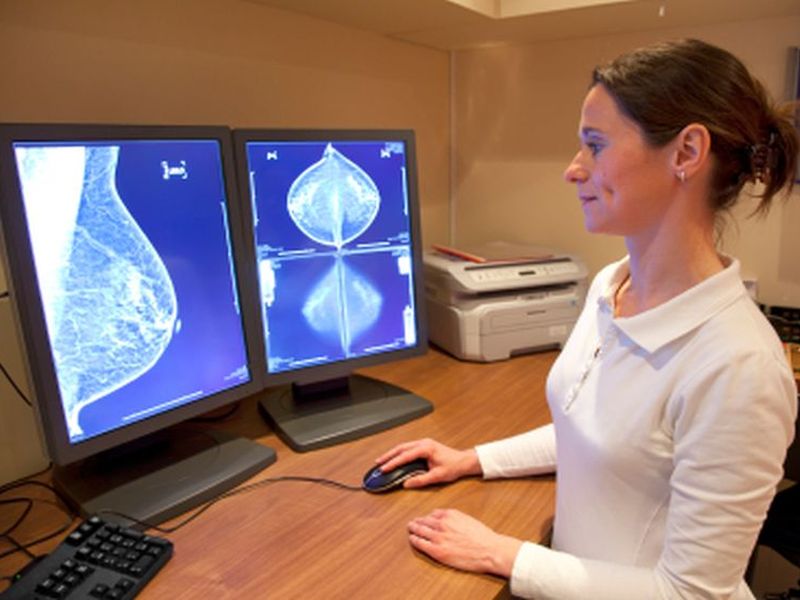 Two experimental drugs show real promise against an aggressive, treatment-resistant form of breast cancer that's spread to other parts of the body, researchers say.
The tumors in question are called metastatic HER2-positive breast cancers - named because the tumor cells' surface is populated with a protein called HER2, which is tied to cancer growth. HER2-positive breast cancers account for 15% to 20% of all breast cancers.
In one trial, a pill known as tucatinib was tested in 615 patients with these tumors, treated at 155 different centers around the world. All of the patients had already failed other therapies, including drugs such as trastuzumab (Herceptin), pertuzumab (Perjeta), and T-DM1.
As the research team explained, tucatinib binds to a different portion of the HER2 protein than those other drugs.
In the trial, 410 patients were randomly selected to receive tucatinib combined with two often-used medicines, trastuzumab and the chemotherapy drug capecitabine. A "control" group of 202 patients received trastuzumab, capecitabine, and a placebo.
A year after the start of treatment, 33% of patients in the tucatinib group were alive with no worsening of their disease, compared to just 12% in the control group, according to the research team led by Dr. Eric Winer. He's chief of breast oncology at the Center for Women's Cancers, part of the Dana-Farber Cancer Institute, in Boston.
Rates of survival two years after the start of treatment were 45% for the tucatinib group and 27% for the placebo group, the study also found.
A 'new standard of care'?
One of the worst-case scenarios for patients with metastatic breast cancer occurs when the disease spreads to the brain.
But even among this subgroup, the addition of tucatinib offered new hope: 25% of those in the tucatinib group were alive with no advance of the disease a year after beginning treatment, compared to none in the control group, Winer's team reported.
"Our results show that for this group of patients, for whom effective standard treatment options are extremely limited, the addition of tucatinib to trastuzumab and capecitabine provided a clinically meaningful reduction in the risk of disease or death," Winer said in an institute news release.
"Most importantly, tucatinib reduced the risk of death by a third, which is unprecedented in a population of patients who had received extensive prior therapy," he added.
Winer believes the new three-drug combo "has the potential to become a new standard of care for all patients with HER2-positive breast cancer after treatment with trastuzumab, pertuzumab, and T-DM1."
One breast cancer specialist unconnected to the new trial was similarly optimistic.
"This trial is the first trial I am aware of that also included patients with untreated or progressive brain metastases," said Dr. Amy Tiersten, a professor of medicine, oncology and hematology at the Icahn School of Medicine at Mount Sinai, in New York City.
"Overall, tucatinib reduced risk of progression or death by 50%," she said, calling the findings "very exciting."
Good results, but side effects, too
A second trial assessed a drug called trastuzumab deruxtecan (T-DXd), which interrupts the process by which cancer cells copy their DNA before dividing.
The trial included 253 patients with metastatic HER2-positive breast cancer previously treated with T-DM1. Of the 184 patients who received the recommended dose of T-DXd, 61% had a response to the drug, including 6% with a complete response (disappearance of all signs of the cancer) and 55% with a partial response (decrease in the size of the tumor or extent of cancer in the body).
The median time that patients lived before their cancer worsened was 16.4 months, according to study senior author Dr. Ian Krop and colleagues.
"Both of these measures of efficacy are substantially higher than has been seen in any other study of patients with pretreated HER2-positive metastatic breast cancer," Krop, who is the associate chief in the division of breast oncology at Dana-Farber, said in the news release.
The "disease control rate" in the 184 patients was 97%, the study found.
"This suggests that the vast majority of cancers in this population seem to have at least some sensitivity to this agent," Krop said. The new findings suggest that "this agent could provide a new treatment option for this patient population," he added.
'New level of attack'
Both of the new drugs did come with side effects, however, sometimes severe.
In the case of tucatinib, side effects included diarrhea, nausea, fatigue and vomiting, as well as a condition that brings on redness, pain or swelling in the palms of the hand and/or soles of the feet.
And in the T-DXd trial, all patients experienced some form of side effects, the researchers said. Those effects were often severe, and included drops in immune system white blood cells, nausea, fatigue and anemia. Overall, 15% of patients discontinued the treatment due to side effects.
One dangerous side effect - a sometimes fatal illness called interstitial lung disease - occurred in 215 of the patients, the researchers noted.
Dr. Lauren Cassell is chief of breast surgery at Lenox Hill Hospital in New York City. Reading over the results of the two new trials, she agreed that "these new targeted therapies provide a new level of attack when others no longer continue to prevent progression of disease."
There was one caveat, however: "Unfortunately, they are not without side effects, the most significant being interstitial lung disease, which in itself can lead to loss of life," Cassell said.
Both studies were funded by drug makers, and were presented Wednesday at the annual San Antonio Breast Cancer Symposium. They were also published simultaneously in the
New England Journal of Medicine
.
The tucatinib trial was supported by Seattle Genetics. The T-DXd study was sponsored by Daiichi Sankyo, Inc., and AstraZeneca. Winer received funding from Carrick Therapeutics, Genentech/Roche, Genomic Health, GSK, Jounce, Leap, Lilly, Merck, and Seattle Genetics.
Krop received grant support and research support from Genentech/Roche and Pfizer, personal fees from Daiichi Sankyo, Macrogenics, AstraZeneca, and Genentech/Roche.
Sources: Amy Tiersten, M.D., professor of medicine, oncology and hematology, Icahn School of Medicine at Mount Sinai, New York City; Lauren S. Cassell, M.D., chief of breast surgery, Lenox Hill Hospital, New York City; Dana-Farber Cancer Institute, news release, Dec. 11, 2019.