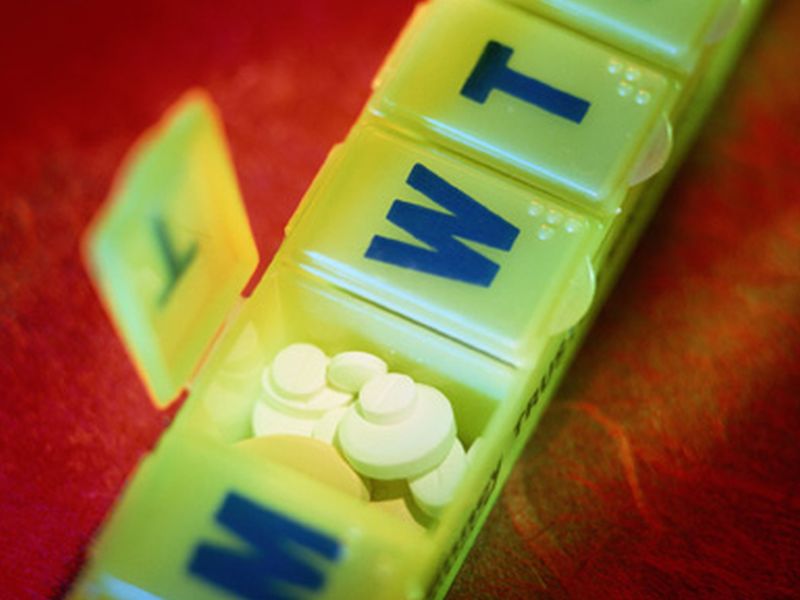 Men who are on the blood-thinning drug warfarin have more difficulty taking the medication if they live alone, but the same is not true for women, a new study finds.
Warfarin (brand-name Coumadin) is a common anti-clotting treatment to prevent stroke in people with atrial fibrillation, the most common type of heart rhythm disorder.
Continuous blood-monitoring is required for warfarin to be safe and effective. Too little of the drug may allow a blood clot to form and cause a stroke. Too much causes bleeding.
Having ideal warfarin concentrations in the blood to prevent stroke and avoid bleeding is called time in therapeutic range (TTR). European Society of Cardiology (ESC) guidelines say patients should be in TTR at least 70% of the time.
In this study, researchers assessed nearly 4,800 patients in Denmark with six months of continuous warfarin use and monitoring. Median TTR in men living alone was 57% - 3.6% lower than in men who lived with partners. (Median means half had longer times, half shorter.)
Women who lived alone had a 0.2% lower TTR than those who lived with partners, but the difference wasn't significant, according to the study authors.
The findings were presented Monday at the annual meeting of the ESC in Paris. Research presented at meetings is typically considered preliminary until published in a peer-reviewed journal.
"Men living alone had low, poor anticoagulation control. The impact of living on their own was larger than several factors previously known to affect TTR, such as cancer, use of interacting medication or heart failure," study author Dr. Anders Bonde said in an ESC news release.
"'Ask my wife' is a common reply among older men to questions about their medication, disease and treatment," he noted.
"Our study suggests that when it comes to anticoagulation control, men are more dependent on their partner than women," said Bonde, who practices at Gentofte University Hospital in Copenhagen, Denmark.
He added that women living alone often have better relationships with their children and a broader network of people around them.
Bonde suggested that men who live alone and use warfarin may need extra support - such as education, home visits, telephone calls or additional follow-up visits - or another medication.
"They might also consider using a newer type of drug, a non-vitamin K antagonist oral anticoagulant (such as Pradaxa or Eliquis), which is easier to manage and has fewer interactions with food and drugs compared to warfarin," Bonde said.